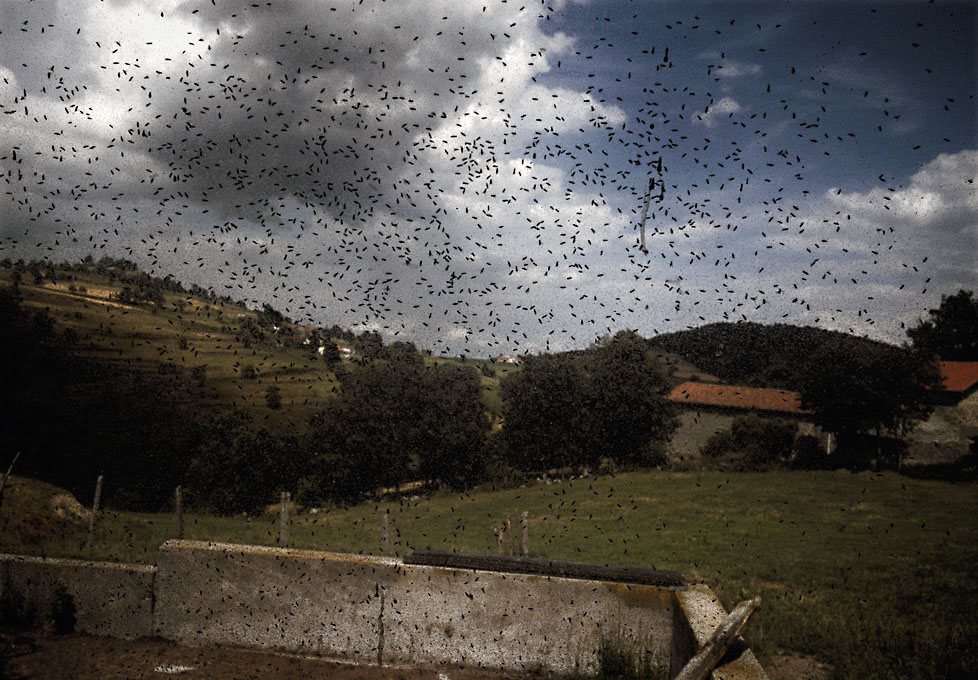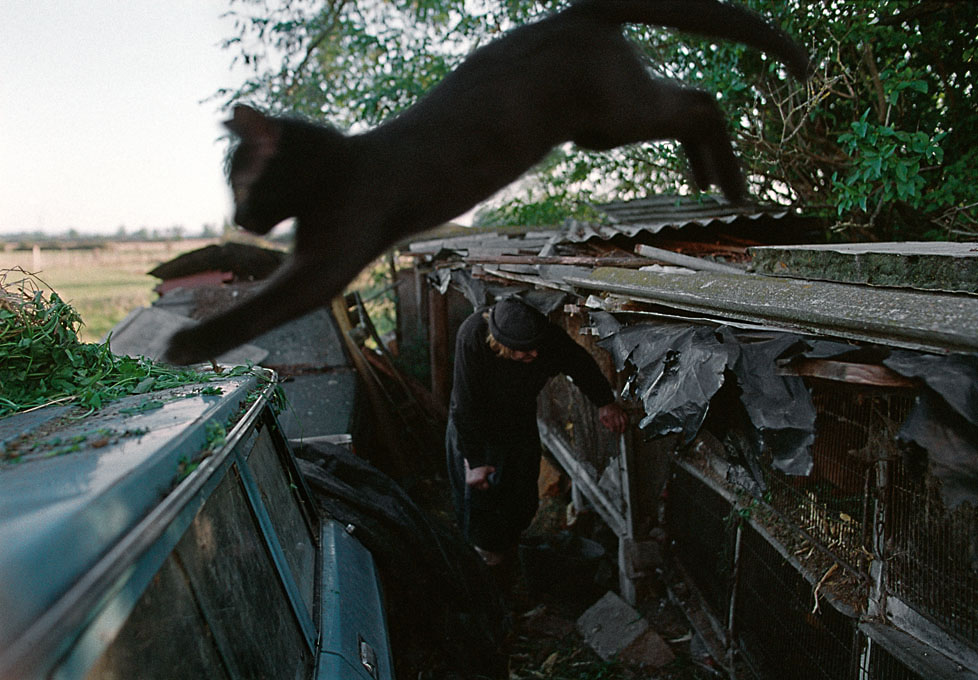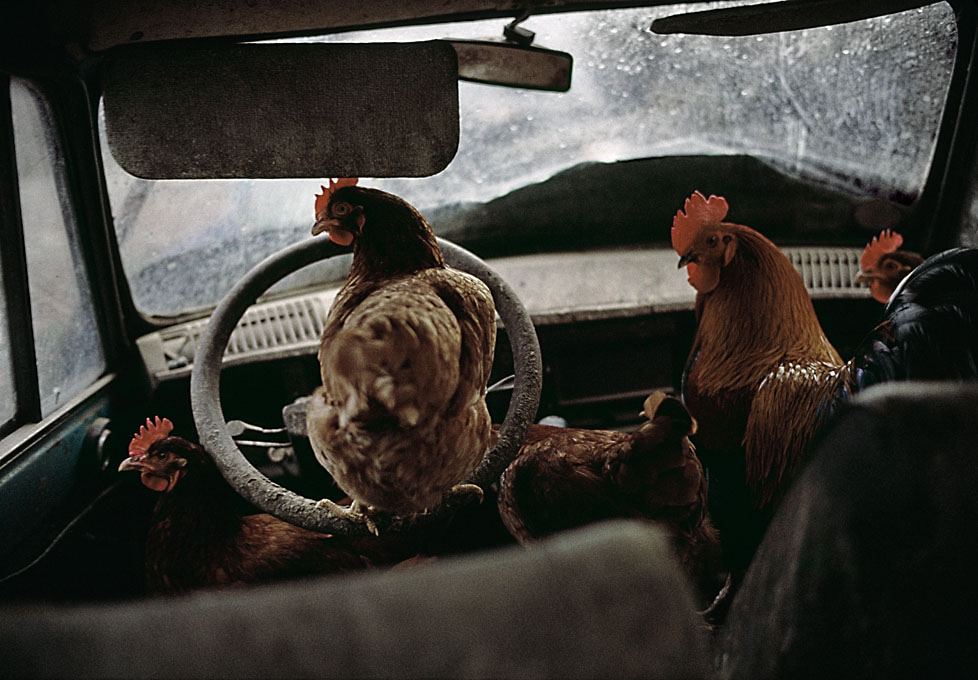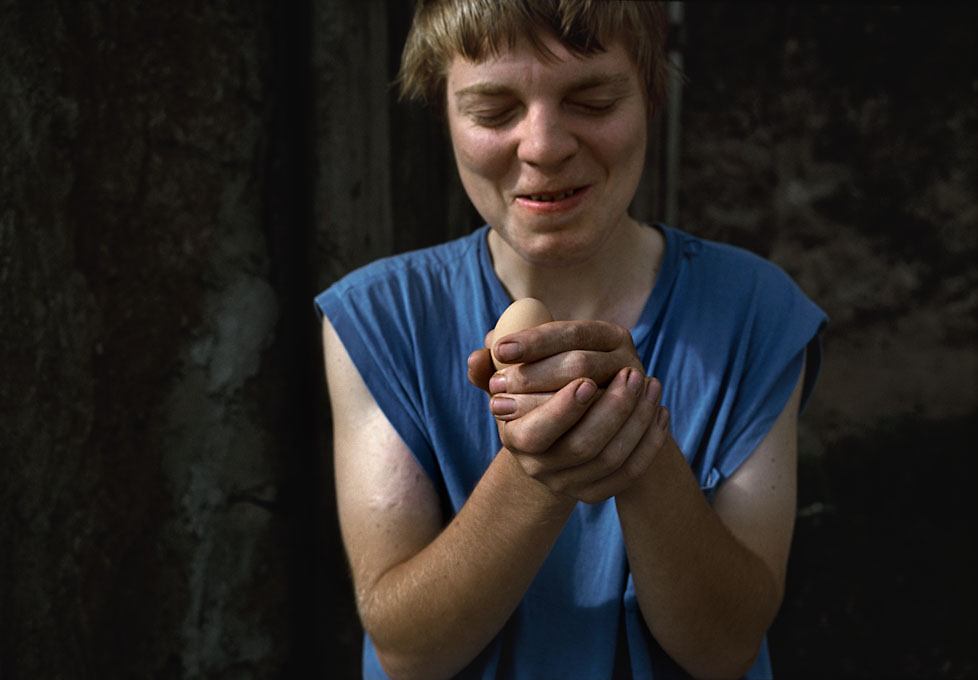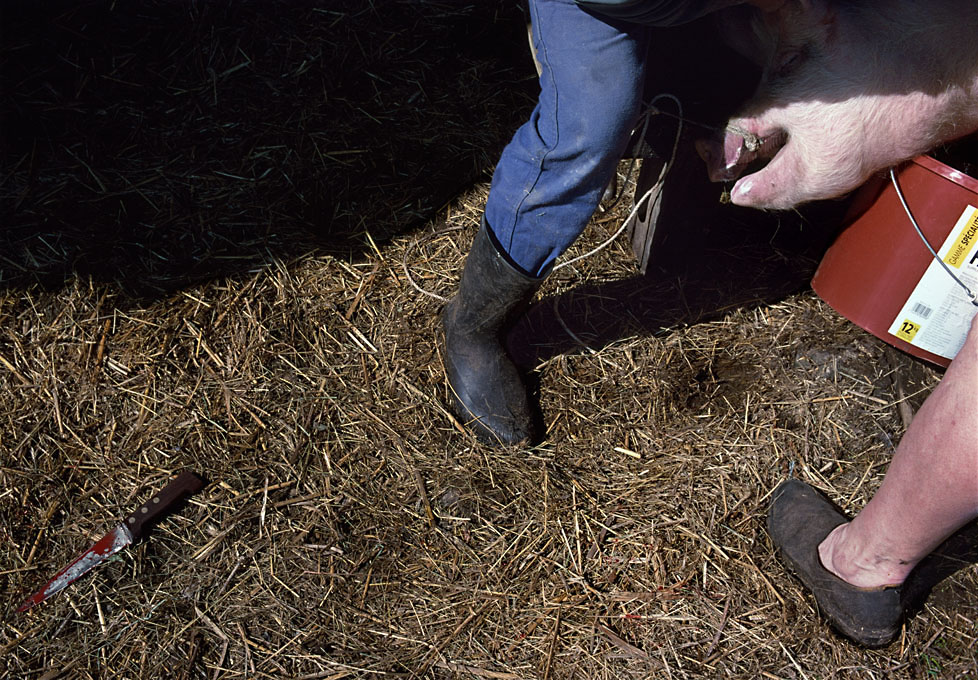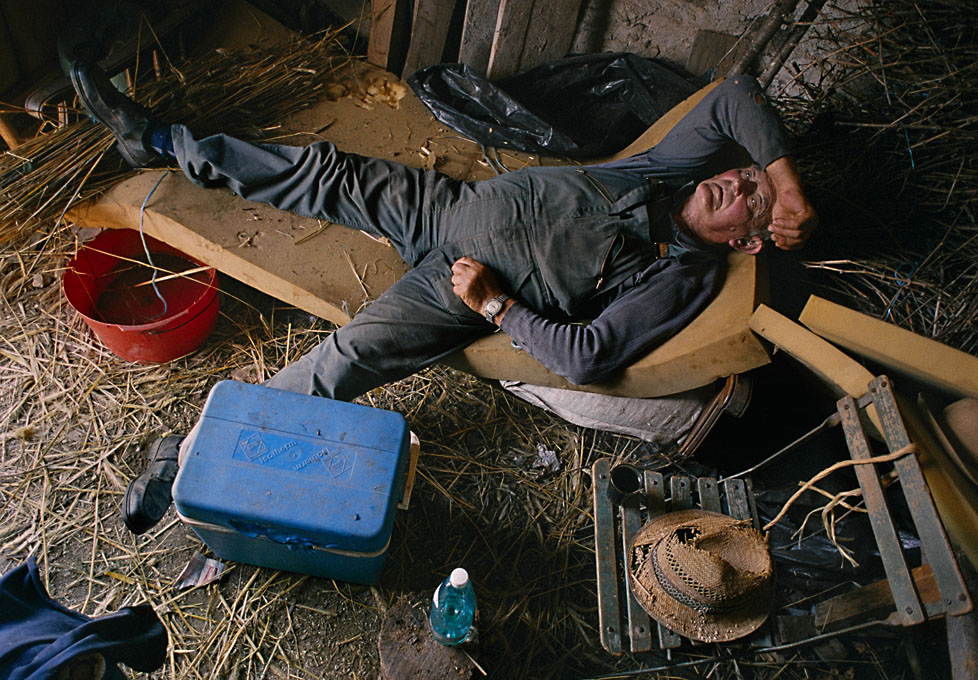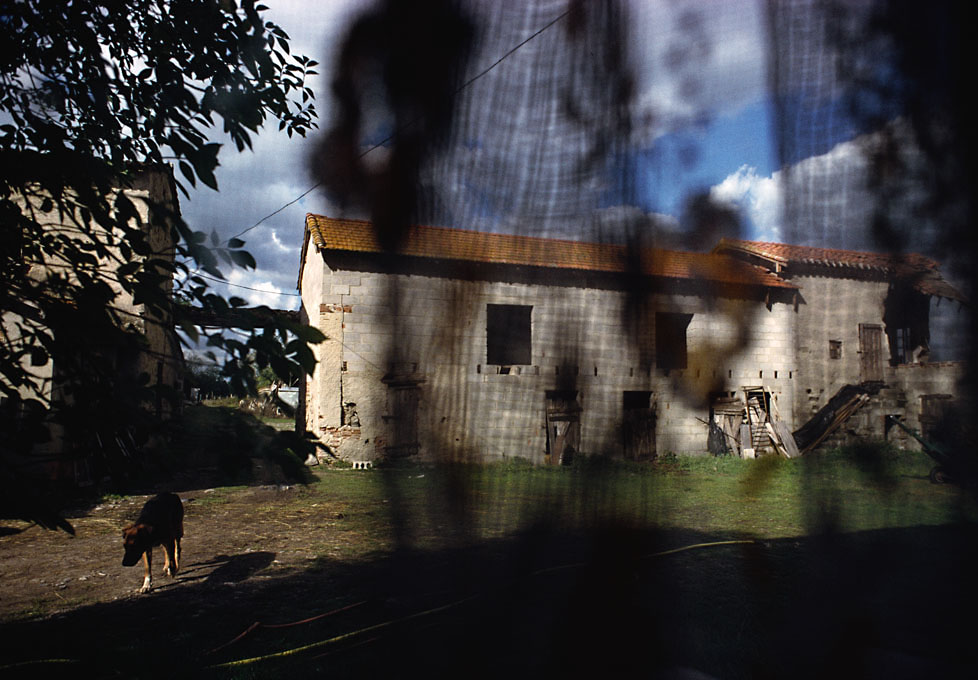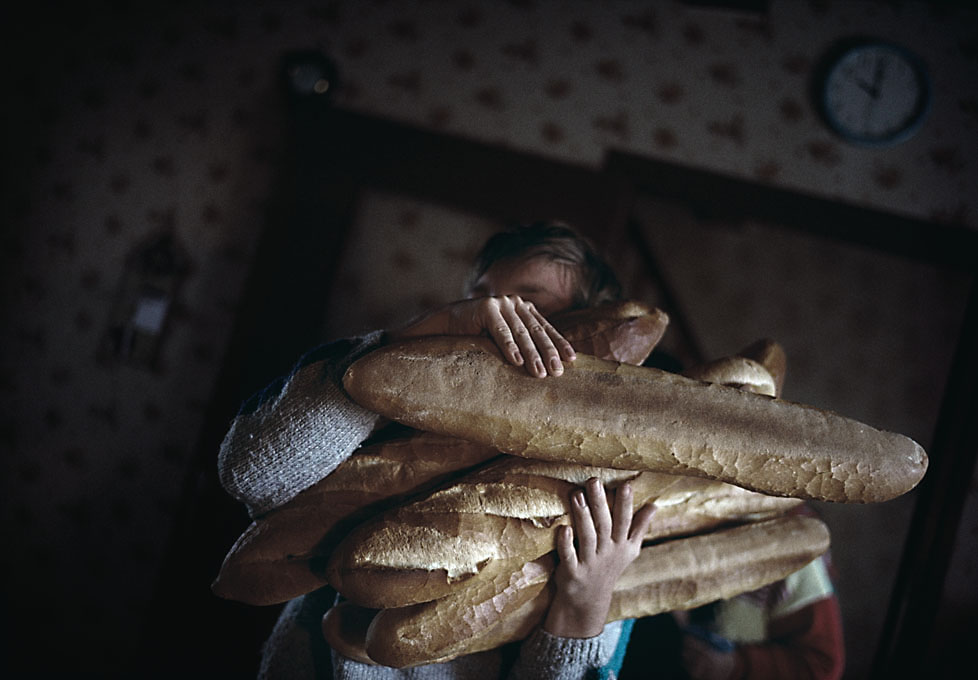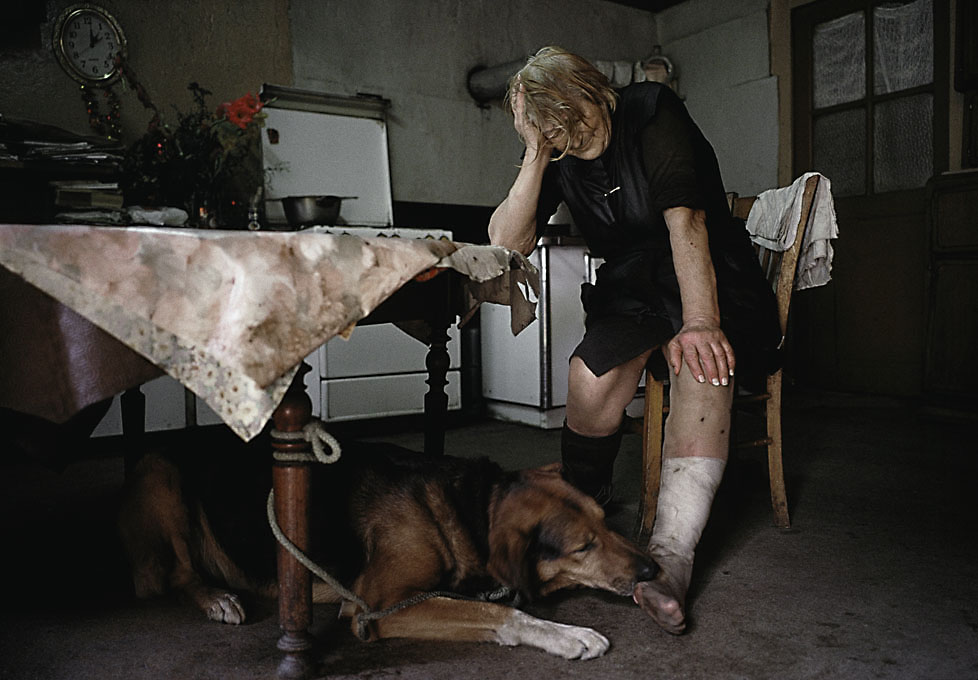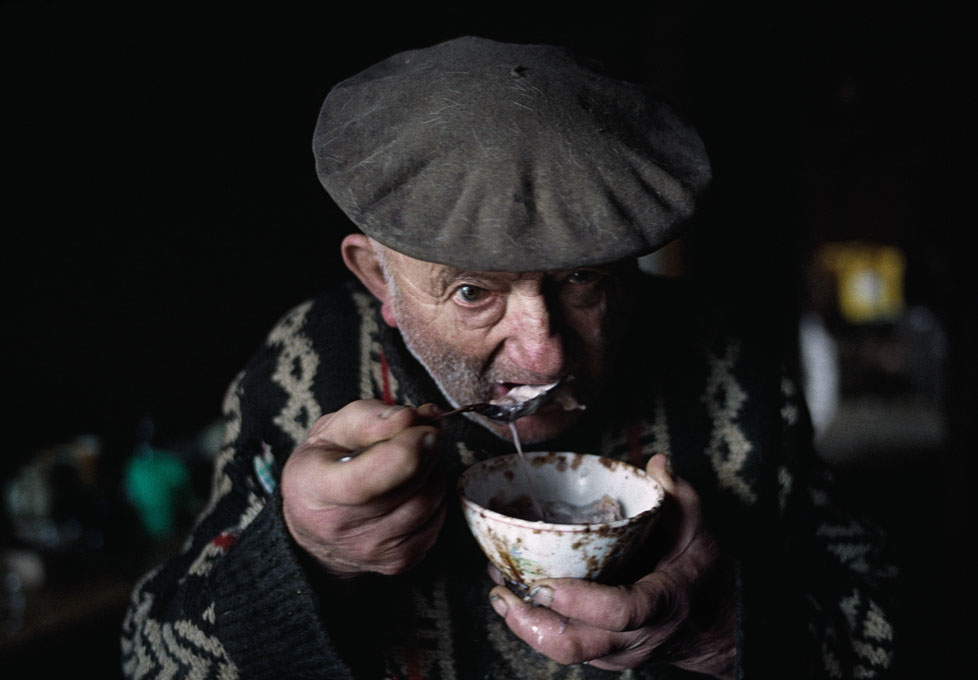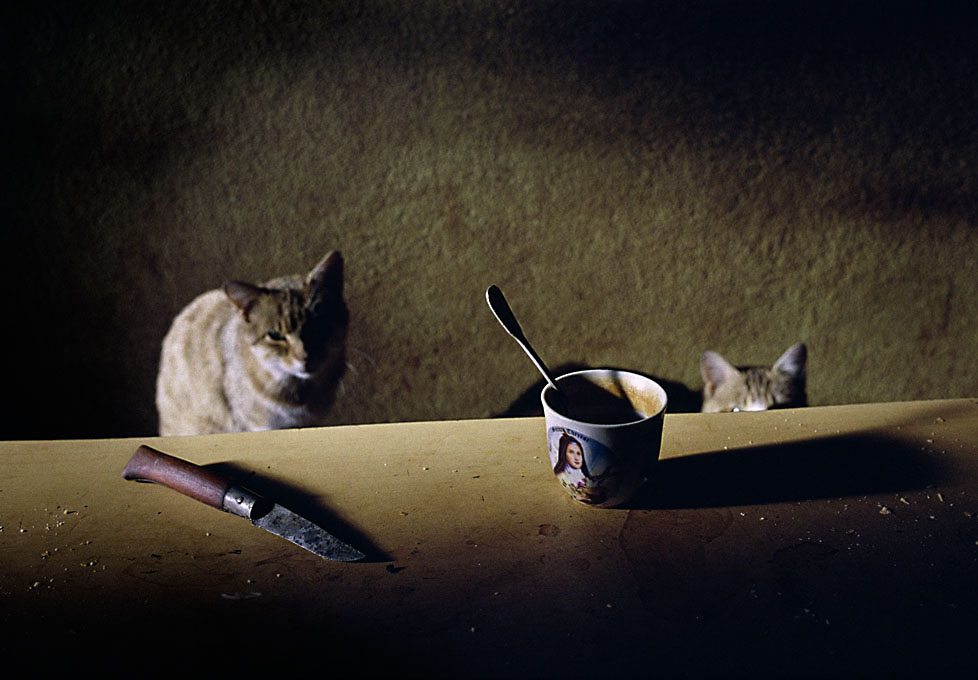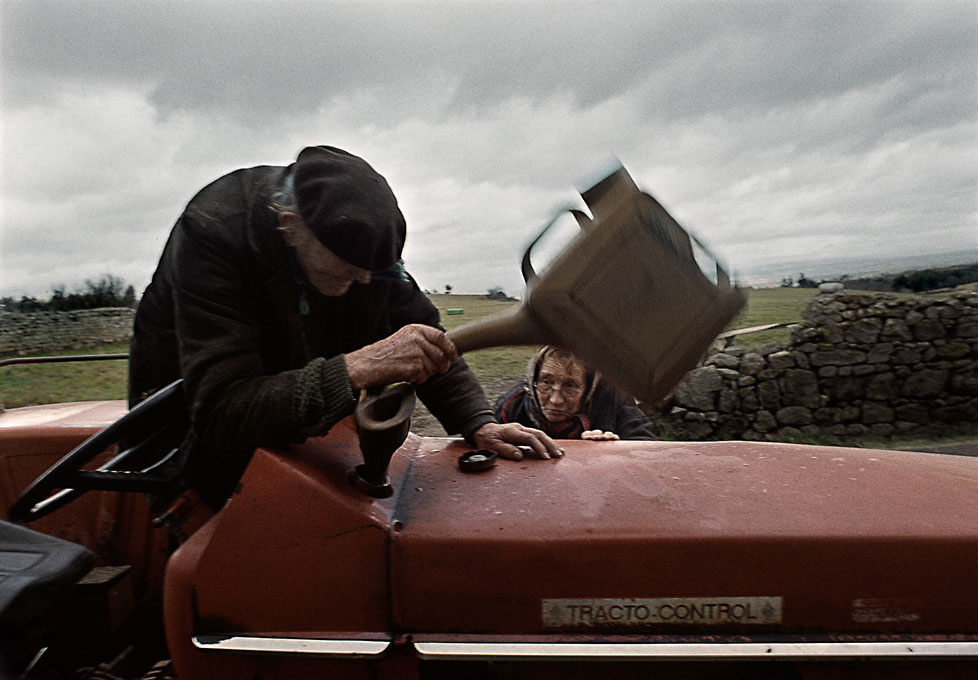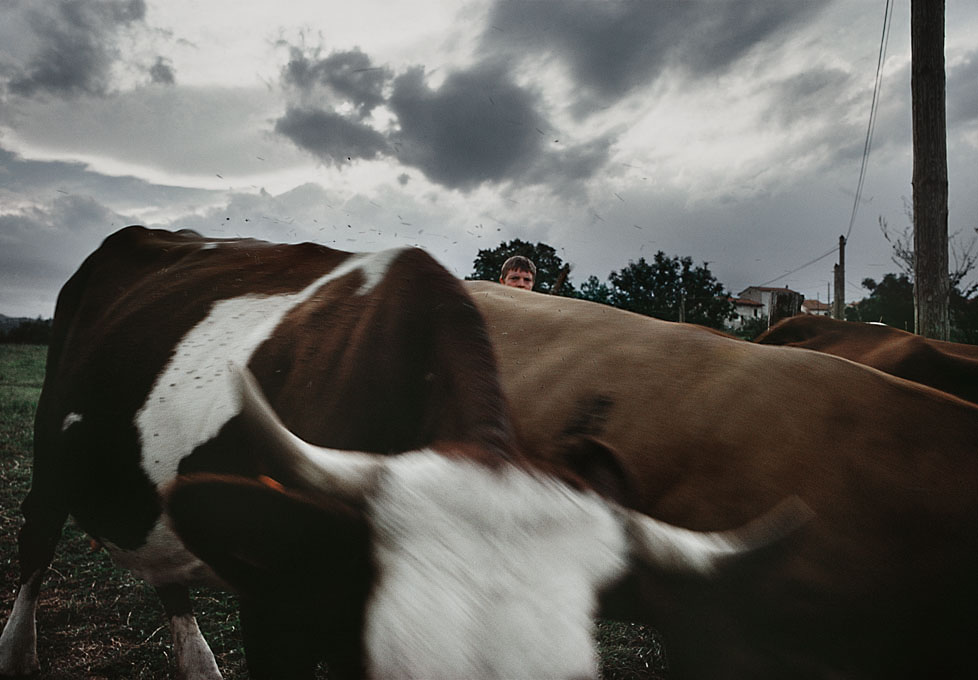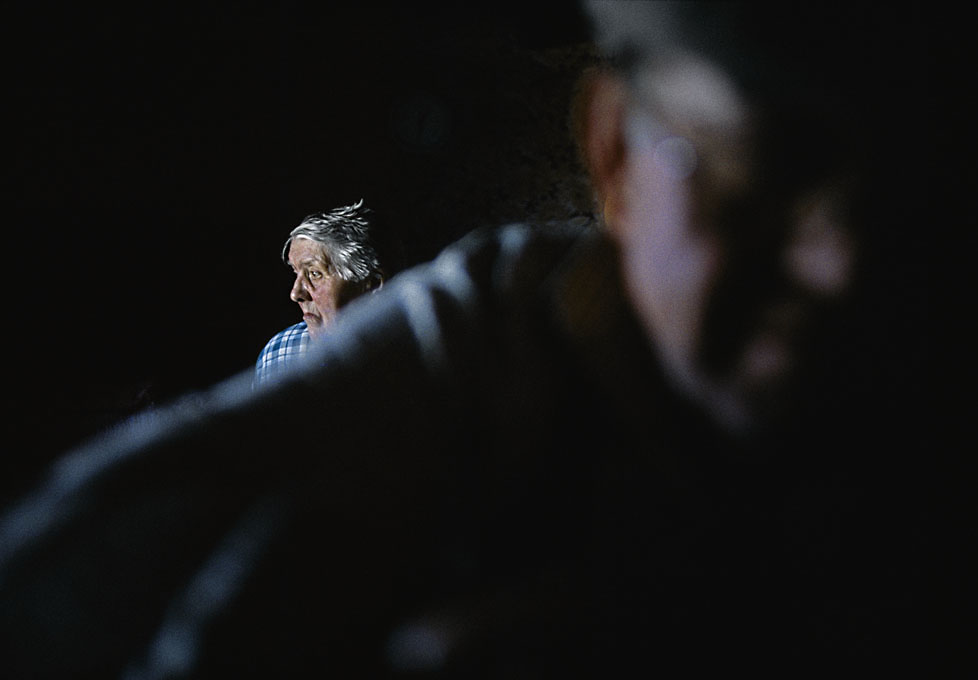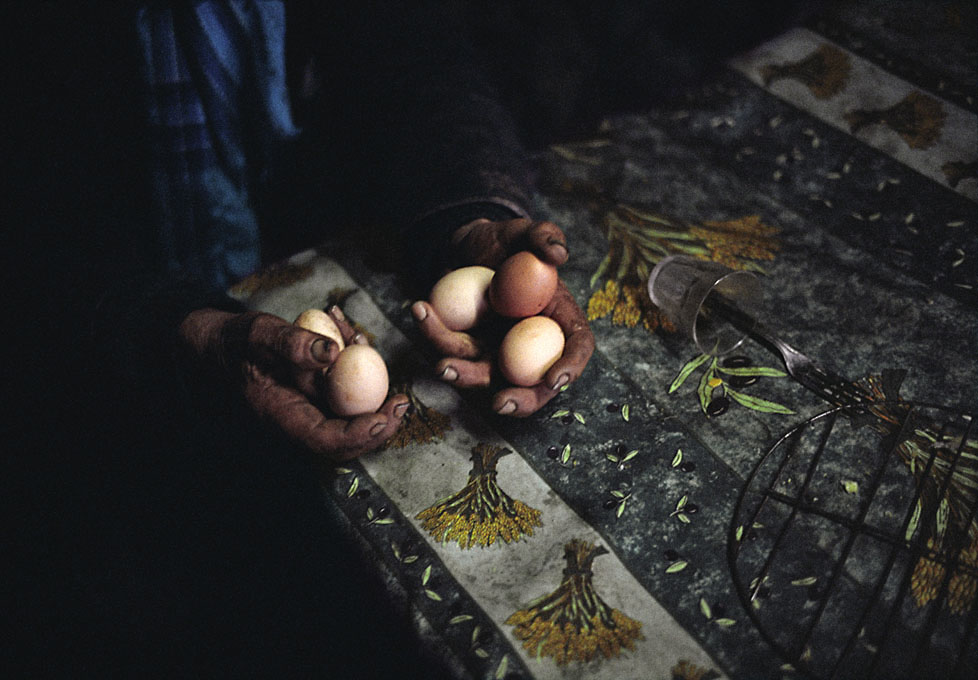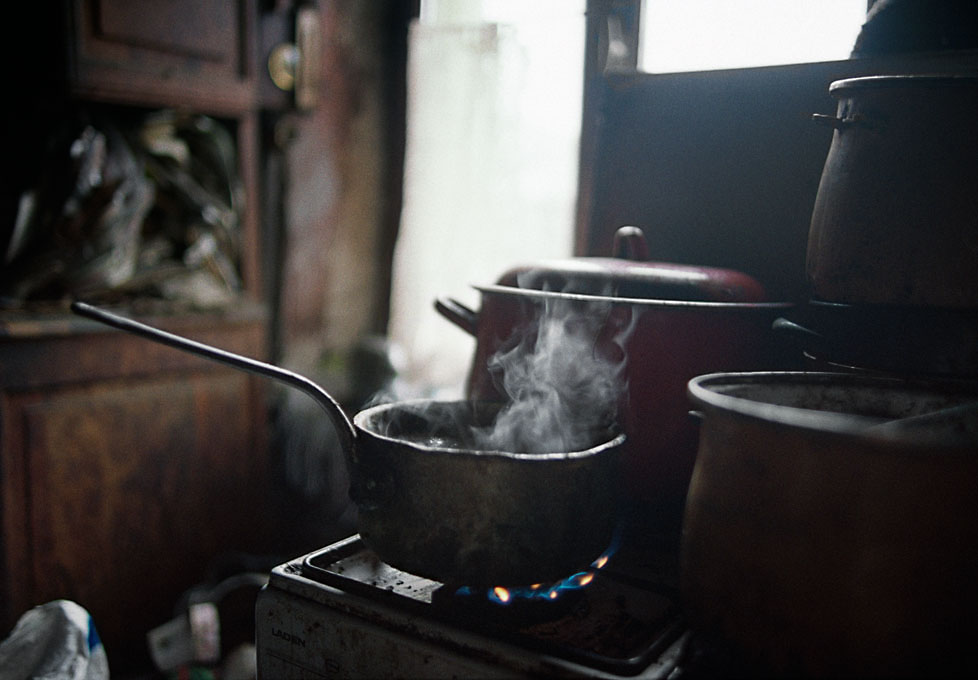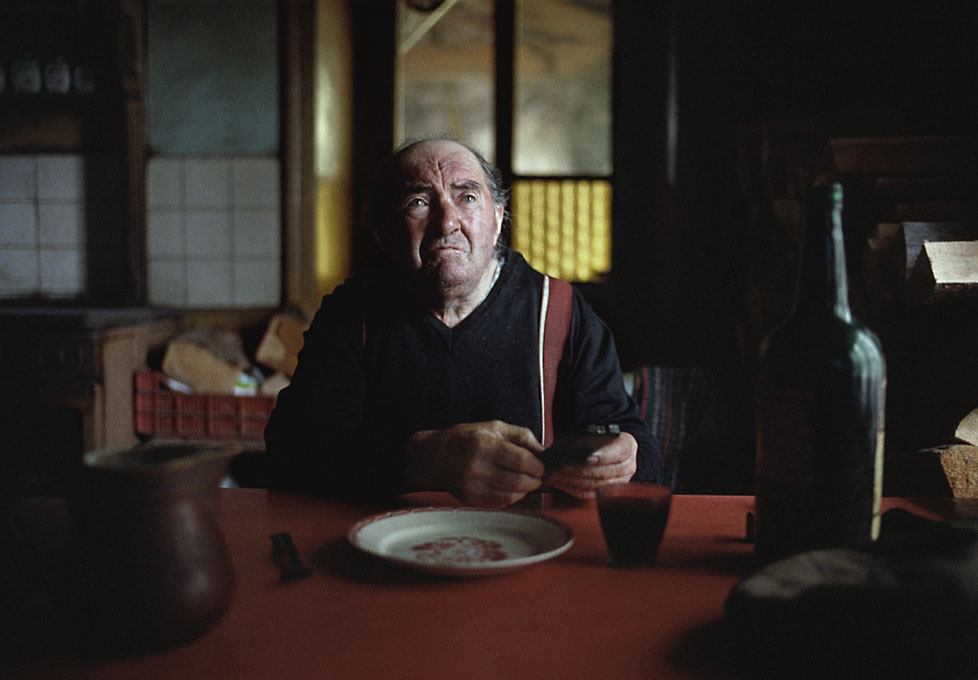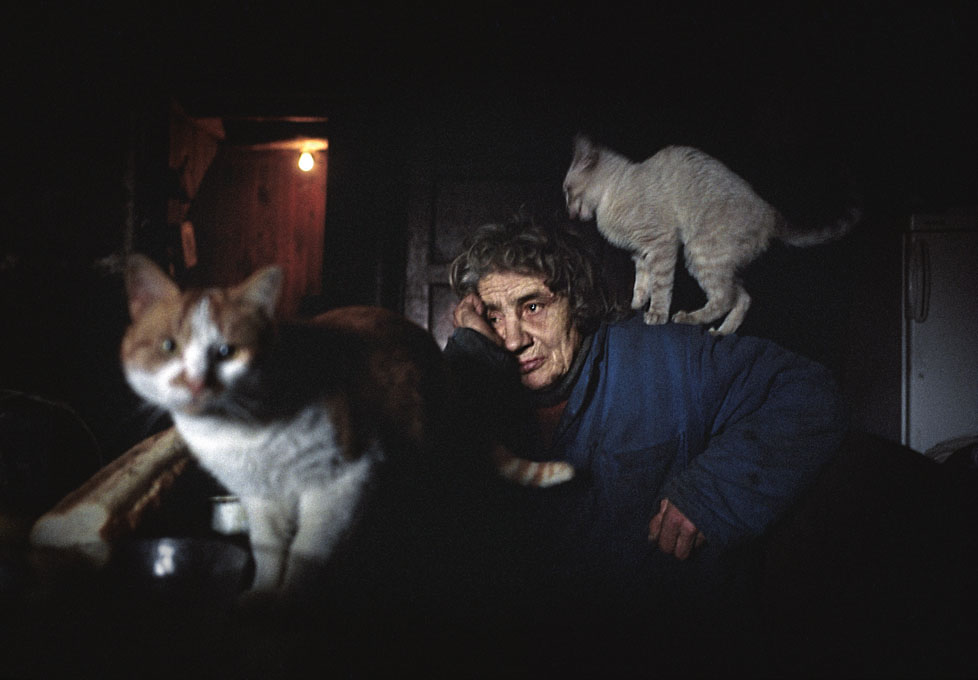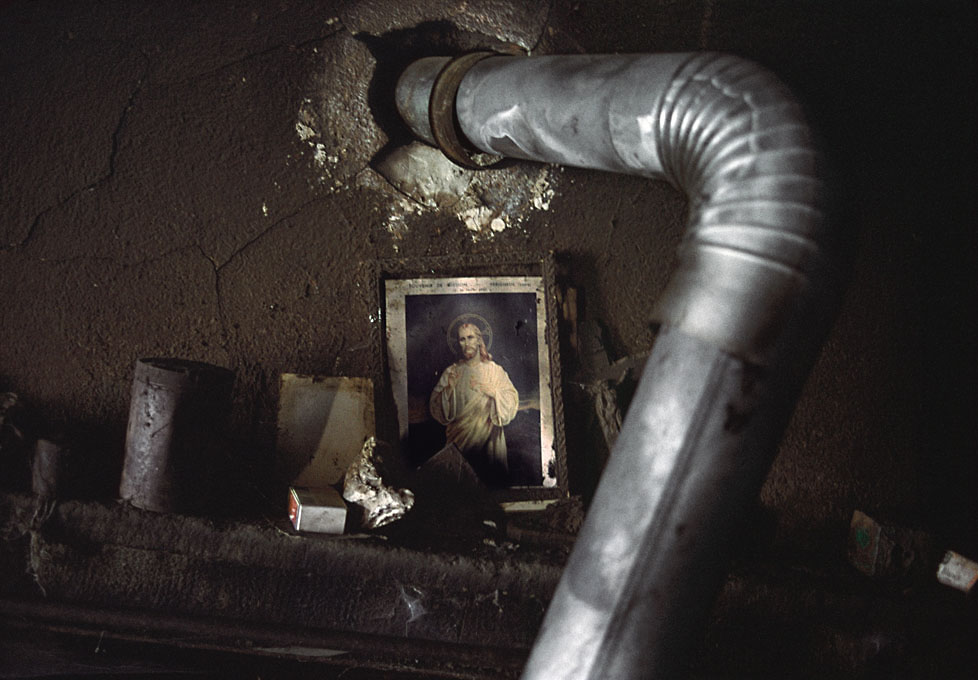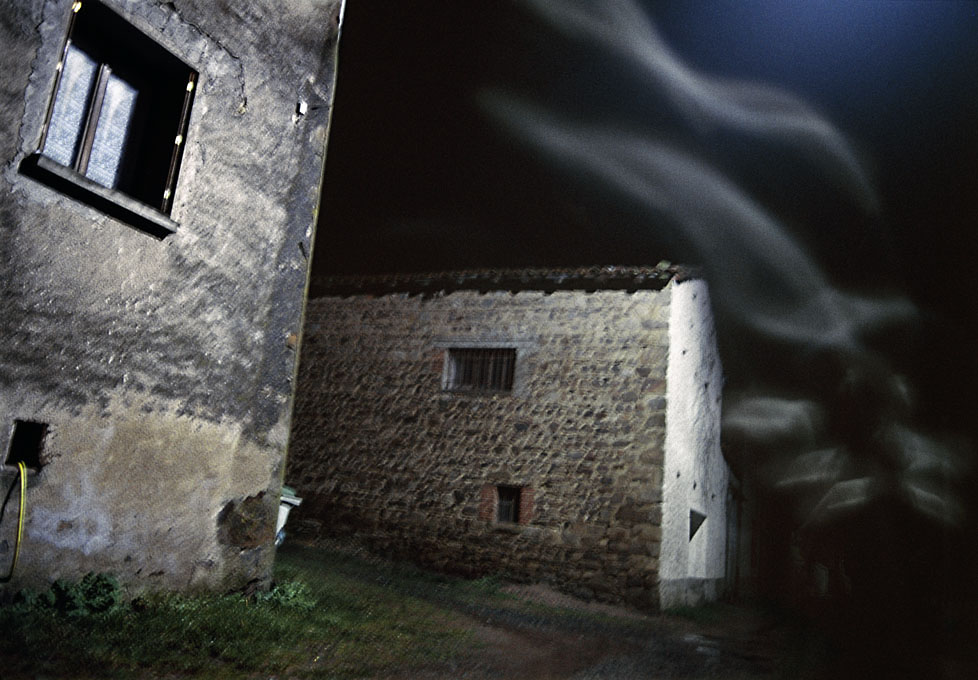 … Underneath the wooded volcanoes, the furrows of poor earth, the thick fog, the scent of damp clover, the cry of the crows, the entanglement of the forest after a storm, the peace in the heart of the vines, the paths dug up into ruts, the fields lying fallow, the snow swept away by the North wind, the mysteries of the night, the silence… this reality inspires me.
I travel the plains and the mountains, wherever the wind carries me, searching intuitively for the invisible. New York, my land of refuge, seems so far away… the smell of manure, the lowing of the cows, the combine harvester abandoned at the far end of the meadow, the carpet of used tyres that covers the silage, the old car used as a henhouse, the makeshift cowsheds, the cracks in the walls of sun-dried bricks, the rags spread out on the rusty sheet metal, the mud, the worn out shoes on the landing…
The dogs bark. A face appears behind a lace curtain. I knock on the door. They let me come in for just a little while. Some cats escape through a half-open window. A radio crackles with the news headlines. Tobacco smoke stings my nose. I almost walk into a long strip of fly paper. The lights are dim, hardly lighting up the house. On the walls are polaroids yellowed by the passage of time, and beside them an accumulation of clocks that no longer tell the time, a dusty Christ, and a plaster Virgin, a souvenir from a pilgrimage to Lourdes. Silences talk to me…
From village to village, farm after farm, I discover modest and remarkable men and women: Claudette with sparkling blue eyes and red made-up lips. Jeannot, sentimental and rebellious, reminds me of Charlie Chaplin. Babette, his wife, is in love and overflowing with tenderness. Raymond is generous, shy and lonely. Since the passing of his brother, Jean is grieving. I notice a shadow of melancholy in the eyes of Mathilde. Lucien drives away his blues by playing the harmonica. Courageous, realistic, they don't delude themselves too much. In love with their countryside, they live far from this world in perpetual metamorphosis, where you have to be the best and always produce more.
In time, exchanges and conversations take place. I listen to them with my eyes. I want to take everything, capture everything and not lose anything. As the years go by I photograph and film their life as it is. I become attached to their voices, their gestures, their worlds… the ritual of the signing of the bread with a knife before a meal, the thick soup going cold in the bowl, the box of weekly pills to fill and refill, the lunchtime leftovers in the bread bin, the red wine crystallising at the bottom of the glasses, the burnt milk on the stove, the incessant coming and goings of their animals. I like their wizened hands, their wrinkles, their straight-talking, their common sense.
My visits become more and more frequent, and expected. My curious eye worries them less and less. They call me 'tu' and no longer fear my intentions. The silence is no longer embarrassing. Each moment spent together brings us closer to friendship… the morning snack, the Sunday Mass, the glass of wine in the bistro across the road, the siesta, the dance at the local festival, the hay-making, the hog-roast, the unending coffee, the quiet contemplation at the cemetery, Christmas Eve…
I have an unbounded love for the land of my childhood, the Forez. It is to this province of France with its intense landscape, these humble fortunes, these joys and these human hardships, that I went to become intoxicated by the deafening silences of this world.
Christophe Agou
… Sous les volcans boisés, les sillons de la terre pauvre, les brumes opaques, le parfum du trèfle mouillé, le cri des corbeaux, l'enchevêtrement de la forêt après la tempête, la paix au cœur des vignes, les chemins creusés d'ornières, les champs en friche, la neige balayée par la bise, les mystères de la nuit, le silence… ce réel m'inspire.
Au gré du vent, je parcours la plaine et la montagne et cherche intuitivement l'invisible. New York, ma terre d'asile, me semble si lointaine… l'odeur du fumier, le beuglement des vaches, la moissonneuse-batteuse abandonnée au fond du pré, les tapis de pneus usagés qui recouvrent l'ensilage, la 'voiture-poulailler', les étables rafistolées, les fissures sur les murs en pisés, les frusques étalées sur une tôle rouillée, la boue, les godasses éculées sur le palier…
Des chiens aboient. Un visage m'apparaît derrière un rideaux en dentelle. Je frappe à la porte. On me laisse un peu entrer. Des chats s'enfuient par la fenêtre entre-ouverte. Une radio crépite ses faits divers. La fumée du tabac Gris me pique le nez. J'évite de justesse un long ruban de papier tue-mouches. La faible lumière de Mars éclaire à peine l'habitat. Au mur, des polaroids jaunis par le temps côtoient une accumulation d'horloges qui ne donnent plus l'heure, un Christ poussiéreux, une vierge en plâtre, souvenir d'un pèlerinage à Lourdes. Les silences me parlent…
De village en village, ferme aprés ferme, je découvre des hommes et des femmes modestes et singuliers: Claudette aux yeux pétillants de bleu et aux lèvres maquillées de rouge. Jeannot, sentimental et révolté, me rappele Charlie Chaplin. Babette, son épouse, est amoureuse et déborde de tendresse. Raymond est généreux, timide et solitaire. Depuis le départ de son frère, Jean a du chagrin. Je remarque une ombre de mélancolie dans les yeux de Mathilde. Lucien "chasse son cafard" en jouant de l'harmonica. Vaillants, réalistes, ils ne se font pas trop d'illusions. Amoureux de leur campagne, ils vivent loin de ce monde en perpétuelle métamorphose, où il faut être le meilleur et produire toujours plus.
Avec le temps, les échanges et les conversations prennent place. Je les écoute du regard. Je veux tout prendre, tout saisir et ne rien perdre. Au fils des ans, je photographie et filme leur vie telle qu'elle est. Je m'attache à leurs voix, à leurs gestes, à leurs mondes… le rituel de signer le pain avec le couteau avant le repas, la soupe épaisse qui refroidit dans l'assiette, la boîte à pilules hebdomadaire à faire et refaire, les restes de midi dans le tiroir à pain, le rouge cristallisé au fond des verres, le lait brulé sur le fourneau, le va-et-vient incessant de leurs animaux. J'aime leurs mains noueuses, leurs rides, leur franc-parler, leur bon sens.
Mes visites deviennent de plus en plus fréquentes, attendues. Mon œil curieux les inquiète de moins en moins. Ils me tutoient et ne 'craignent' plus mon objectif. Le silence n'est plus gênant. Chaque instant passé ensemble nous rapproche de l'amitié… le casse-croûte du matin, la Messe du dimanche, le 'canon de rouge' au bistrot d'en face, la sieste, le bal de la fête communale, les foins, la "tuaille" du cochon, la pause-café qui n'en finit pas, le recueillement au cimetière, la veillée de Noël…
J'ai pour mon pays d'enfance, le Forez, un amour infini. C'est de cette province de France aux paysages exacerbés, de ces humbles destins, de ces joies, de ces peines humaines et de ces silences assourdissants que je suis allé m'enivrer.
Christophe Agou